Ever wondered what a private health insurance is? In many countries it is a fancy upgrade of the existing public health care system that gives you wider network of doctors, additional coverage, shorter queues and extra services. But not in the Czech Republic.
Czech private health insurance, which is the only health care plan available for kids and unemployed spouses of legally employed foreigners, is nothing more than a modified version of travel insurance. Ever dreaded that you might need to jump through hoops to get medical help during your two week holiday? That is what our loved ones go through every time they visit a doctor in the Czech Republic for 5 long years till they get permanent residence.
Don't believe the promotional flyers of Czech insurance companies, private health insurance for foreigners is as distant from public health insurance as a cardboard Karlštejn Castle from the real one. Paying for medical help that is for some reason not covered by private health insurance for third country nationals soon becomes not an option as every doctor's visit, medical examination, blood test or surgery costs them on average 3 times more than the insurance company would have paid.
Public health insurance

Private health insurance

Companies

VZP, VoZP, ČPZP, OZP, ZPŠ, ZPMV, RBP

Maxima, ERGO, Slavia, PVZP, UNIQA, AXA ASSISTANCE

Insurance type

Tax-payer funded national health care system.

Casualty insurance. This type of insurance is commonly used to insure property or personal belongings like a car or a cell phone, not a living person.

Insurance premium

Paid every month, amounts to 13,5% of the client's income. Kids under 18 years and elderly people do not pay the premium, unemployed pay 13,5% of the minimum wage.

One time huge payment, amount depends on the contract duration, client's age and health status. Insurance for small kids and elderly people is way more expensive than for clients between 6-44 years of age.

Premium
regulation

The amount different social groups are paying are set by the laws. Any change results in a new legal regulation being issued.

Outstanding business expenditure stands at

4%

on average and is regulated by

law

.

No regulations.
No upper limit for the premium is defined.
Annual premium growth is not regulated.
Insurance company can use any amount of collected premiums on outstanding business (and that is exactly the trend now with insurance companies spending 50-80% of the collected premiums on outstanding business and only 20-50% on the actual health care).

Contract start

Client chooses the insurance company. The insurance company can't opt out of insuring the client.

Subject to insurance company's approval. If the client is considered too risky he won't be insured.

Contract termination

Insurance company can't terminate the contract.
Clients can change the insurance company twice a year, on January 1 and June 1, no penalties imposed.

Insurance company can terminate the contract any time within 3 months after insured event keeping 15-100% of the unused premium.
Clients don't have the option to terminate the insurance and get some part of the unearned premium back unless they die or join public healthcare system.

Insurance coverage limits

No limits

An insured event can't exceed the limit which is usually somewhat near 60 000 euro or 1 600 000 czk.
The lifetime limit is usually around 1 800 000 czk.

Guaranteed minimal coverage

Required coverage by

Zákon č. 48/1997 Sb.

:

Ambulatory patient services.

Emergency services.

Hospitalization.

Maternity and newborn care

Mental health and substance use disorder services, including behavioral health treatment.

Prescription drugs.

Rehabilitative and habilitative services and devices.

Laboratory services.

Preventive and wellness services and chronic disease management.

Pediatric services, including oral (limited) and vision care.

Required coverage by

Zákon č. 326/1999 Sb. § 180j

:

Ambulatory patient services*.

Emergency services*.

Hospitalization*.

Maternity, but the law doesn't ban insurers from making any maternity-related care subject to 3-8 months long waiting periods which they actively use.

Prescription drugs*.

Rehabilitative and habilitative services and devices*.

Laboratory services*.

Pediatric services, including oral care*.

Repatriation.

* – claim is not recognized if connected to a pre-existing or unisurable condition.

Exceptions from insurance coverage

Any pre-existing conditions

that the client had before the start of the insurance, for example chronic diseases.

Even if the condition was discovered for the first time during the insurance period

claim is not legit in case of any genetic or congenital disorders (Uniqa), AIDS\HIV unless acquired via blood transfusion (all), any type of cancer (Uniqa), any sexually transmitted diseases (all), IVF (all), pregnancy termination without medical indication (all).

Subsequent treatment of any injuries or acute states that occurred outside Czech Republic and EU.

Non-mandatory vaccinations are not covered even if by

czech healthcare regulations

they should be covered by public insurance.

Mental health and substance use disorders.

Pregnancy and childbirth are subject to 3 and 8 months long waiting periods unless the case of special insurance for pregnancy\childbirth\neonatal care which is usually 5 – 8 times more expensive.

Children

A child of a Czech citizen, EU resident or a foreigner with permanent residence permit automatically joins public health care system.
Newborns become insured from the moment of birth with the same public insurance company their mother (or father, if mother isn't eligible for public health insurance yet) has contract with.
A child of an employed foreigner without permanent residence permit has only the option of private health insurance.

Children can't be included into a parent's private health insurance, each child should have a separate insurance contract in his name.
Newborns can be insured only after they are cleared to leave the hospital.
If the baby has any health issues – you will be charged the premium the family most definitely can't afford, or will be offered limited health insurance that doesn't cover their health problems.

Provider Network

A wide network of tens of thousands facilities.

PVZP has the widest range of doctors, consisting of couple of thousands facilities, Slavia comes second with around 250 facilities, Maxima third with 140. Other insurance companies have a tiny network of less than 100 facilities in the whole Czech Republic, which means abnormal waiting times and long travel distances.

Mode of operation

Client visits a doctor of his choice from the insurer's network, not paying a penny out of pocket for standard services (with exception of few specific cases like off-hours visit fee of 90 czk or getting some health certificate for personal use).

Client

must

contact assistance service and inform them about the insured event. By not doing this in time client may be denied any compensation.

There is no real free choice of a doctor for several reasons:

– if the assistance service provides a doctor, the client

must

visit their office or risk being denied any compensation.

– the network of doctors is very small. For those who don't want to pay out-of-pocket first and then wait up to 3 months for the compensation (usually a fraction of it as

prices for samoplátce and the insurance company differ greatly

) the choice is often very limited.

Prescribed medicine

If the prescribed medicine is in

the registry

it's price is fully paid by the insurance company. The client can be subject to pay only the difference between retail price and price in the registry.

If the overall sum of these co-payments exceeds certain out-of-pocket limit (500 czk for disabled, 1000 czk for seniors and children and 5000 czk in other cases) – any other prescribed medicine from the registry will be fully paid by the insurer.

Prescribed medicine from

the registry

is always first fully paid by the client. Clients can get the compensation from the insurance company only if the retail price is over 100 czk. When the limit of 5000 czk is reached there will be no more compensation for further prescriptions.

Dental care

Preventive examination twice a year, tooth extraction, local anesthetic, cheapest amalgam tooth filling.

Preventive examination once a year, emergency dentistry: tooth extraction, local anesthetic, cheapest tooth filling up to the limit (usually 5000 czk).

Legal regulations
Price of commercial health insurance for 1 year for different categories of payers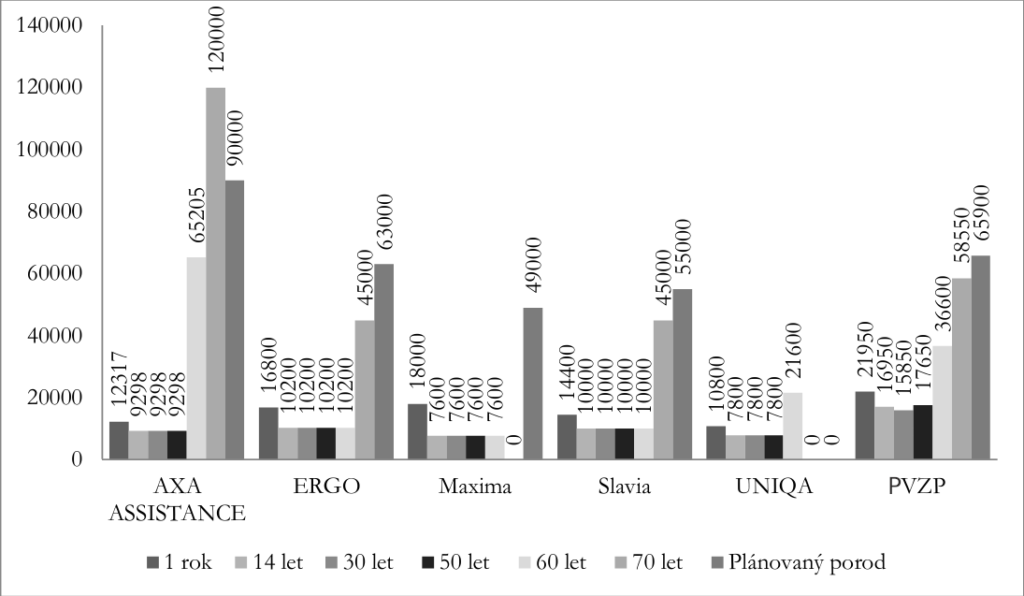 Cost of health insurance for the family (2 adults, 2 adults + 1 y.o, 2 adults + 3 kids, 2 adults + 3 kids + senior) in case of private and public health insurance.